Difference between revisions of "270 Cap System"
Jump to navigation
Jump to search
 

(2 intermediate revisions by one other user not shown)

(No difference)
---
Latest revision as of 21:06, 29 March 2022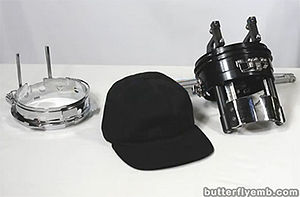 A 270 cap system allows for embroidery on the surface of caps up to a maximum of 270 degrees. For practical purposes, this is essentially ear to ear. With a 270 cap system, a user has the ability to embroider both the front and sides of the cap without the need to re-hoop the cap and sew out a separate design.
Error creating thumbnail: Unable to save thumbnail to destination
Nowadays, the 270 degree cap system is standard. Prior to the 270 cap system becoming standard, cap systems could only embroider on the front of the cap (not the sides).
See also