Industrial/Commercial Embroidery Machine
From Embroidery Machine Encylopedia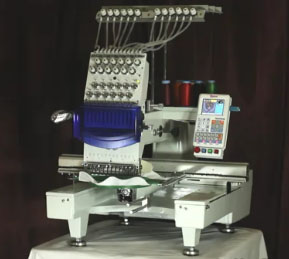 An
Industrial or Commercial Embroidery Machine
is an embroidery machine designed for production, or commercial embroidery. An industrial embroidery machine generally has more than one needle where each needle is used for a different colored thread. An industrial or commercial embroidery machine is different from a home or family type machine. Generally Home or Family machines have only one needle or, are more plastic based. Industrial machines run much faster than home machines and are built much more durable for production work.
Examples of Home or Family machines include Bernina, Janome, etc. Examples of commercial embroidery equipment includes Tajima, Barudan, SWF, Melco, Toyota, Brother. Note, that Brother also makes home and family machines.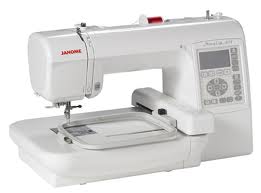 Industrial embroidery machines require that the files be digitized on a computer and then uploaded to the embroidery machine as a data file. The data file includes information on each single stitch and the direction the machine needs to move to make the stitch. In the data file there are also all the commands such as the needle up commands to make the machine lift the needle up without sewing, trims, color changes, etc.
Accessories
Embroidery machines use several types of Embroidery Accessories for creating embroidered goods, or making life easier on the operator.
Brands of Commercial Embroidery Equipment
There are several different major commercial embroidery machine companies across the USA. These same models are generally popular across the entire world wherever production embroidery is done. The most well known models include: