Barudan BEAT 100 Series
From Embroidery Machine Encylopedia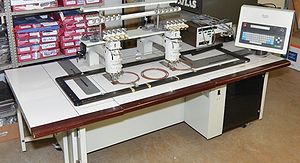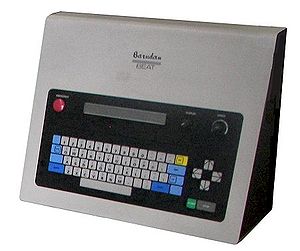 The BEAT 100 Series was a lineup of multi-head embroidery machines manufactured by Barudan from 1981 - 1987. The 100 Series was the first series in the long-running BEAT series of embroidery machines. It was succeeded by the Barudan BEAT 700 Series.
Models
The BEAT 100 series included the Barudan BEAT 102-UF which was the two-head configuration. The six-head configuration - the Barudan BEAT 106-UF - was one of the most popular models in the BEAT series. The heads on both the machines were the round or "turret-style" type with single take-up levers.
The 100 Series had five needles per head and did not come with trimmers or automatic color change. The machines had a keyboard lettering system and a three-line LCD display.
Upgrades
The Barudan BEAT models can be upgraded with the Embroidery Black Box which is an external file reader which allows the BEAT 100 series to upload design files from a modern USB flash memory stick.