Barudan BEMSE Series
From Embroidery Machine Encylopedia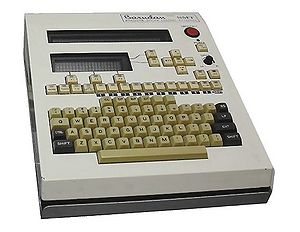 The BEAT 700 Series was a series of multi-head embroidery machines manufactured by Barudan from 1987 - 1989. It was marketed as the "BEMSE" series by Barudan. The 700 Series was the successor to the Barudan BEAT 100 Series and featured an upgraded control panel. The 700 Series used a three-line vacuum fluorescent display.
Models
Models in the 700 series included the BEAT 702, a 2-head, 5-needle machine, the BEAT 704, a 4-head, 5-needle machine and the BEAT 706, a 6-head, 5-needle machine.
The "UF" in the name indicates a 5-needle configuration with a round or "turret-style" head and with a single take-up lever.
The 700 Series was succeeded by the Barudan BEAT 800 Series.
Upgrades
The Barudan BEAT Series can be upgraded with the Embroidery Black Box which is an external file reader which allows the BEAT 700 series to upload design files from a modern USB flash memory stick.
Upgrade 2
See also
External links